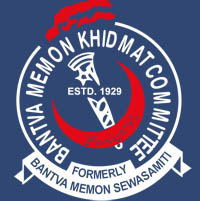 HOME
Bantva Memon Khidmat Committee is a welfare organization which is committed to provide relief to deprived people of our society especially in health sector. Way back in the year 1929, this organization was established in small town of Bantva in Gujrat, India in the name of Bantva Seva Samiti. Seva means 'welfare' and Samiti means 'Committee'. After the creation of Pakistan, it moved to Karachi and established first medical dispensary which was inaugurated by Mohtarma Fatimah Jinnah in 1948. We serve the needy people of all communities of Pakistan"
Please contribute by Cash or through Cheque, Pay Order, Wire Transfer at our office or to our Bank.
Account Number # 105765
Habib Metropolitan Bank
Limited, Cloth Market
Branch Karachi.